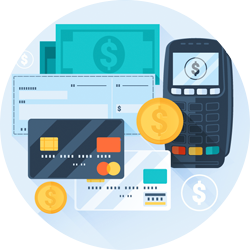 Home Banking:
Access your account on-line anytime day or night.
Telephone Teller 1-877-891-3440:
With our telephone response system, most of your credit union transactions may be conducted at your convenience, 24 hours a day.  Check account balances, transfer funds between accounts, see what checks have cleared and more.
Visa Debit Card:
You'll have convenience and easy access to your account with our VISA Debit Card.  Our Visa debit card is accepted everywhere in the world Visa is accepted.  You can use your card for ATM access, retailers and restaurants worldwide and do purchases over the internet.
E-Statement:
Would you like to have access to your statements faster?  Sign up for E-Statements! You'll receive an e-mail alerting you that your statement is ready for viewing.  You can sign up for E-Statements through home banking.
Fee-Free ATM Access:
Fontana Federal Credit Union is a member of CO-OP Network--the nation's largest ATM cooperative provider.  CO-OP Network has one of the most expansive networks of ATM's within the nation, including 30,000 surcharge-free ATM's in 50 states and 10 countries.  Additionally, the CO-OP Network logo found at 5,500 7-Eleven locations.  To search for an ATM nearest you, or text MYCOOP (692667) from any mobile phone.  In the body of the text, enter an address with a city and state or zip code, or intersection (with city, state), and within 30 seconds, you will receive a reply with the CO-OP Network surcharge-free ATM nearest to you.  All member ATM transactions conducted at CO-OP Network ATM's are completely FEE-FREE! You'll never have to worry about a surcharge again as long as you use CO-OP Network.
MoneyGram Money Orders:
You can purchase money orders for a low fee.
Direct Deposit:
Direct Deposit enables you to have your entire paycheck, Social Security check or other recurring government payment automatically deposited to your account.  You don't have to worry about your check being lost or stolen.
Wire Transfer:
A fast way to send receive money when you need it.  Give us a call at (909) 822-4487 for wiring instruction.
Payroll Deduction:
Take a portion of your paycheck and have it automatically deposited to any of your accounts.  Most members find payroll deduction the most convenient method of making loan payments, saving for a rainy day or dream vacation.